The SUPERWAND metal detector is a compact construction designed for professionals, designed for quick scanning of objects and people in large groups of people (airports, mass events).
The construction of the detector is characterized by a light and compact design, convenient to use form and perfect adaptation to manual scanning. SUPERWAND has two detection methods: omnidirectional 360 ° along the entire length (initial search within a range of over 20 centimeters) and point detection, which consists in the precise location of a metal object. This compact metal detector shows high sensitivity towards ferromagnetic and non-ferromagnetic elements, and the detection of a metal object is signaled by an alarm, vibration or red LED. The amber LED indicates low power, and the green light induces the probe to fire.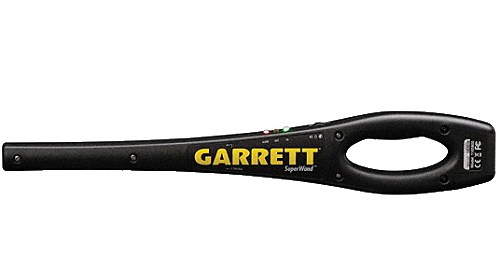 The handheld SUPERWAND detector has the function of auto-adjustment of sensitivity and auto-calibration, based on professional technological solutions. The energy-saving energy management system allows you to use the metal detector for about 80 hours on one 9V battery, and the possibility of using an additional NiMH battery will extend the working time by 20 hours. The scanner uses modern and very durable ABS material (compliant with the Mil-Std-810F standard).
SUPERWAND is used by the police, uniformed services and security agencies. Perfect for situations where fast and reliable action is required, e.g. at airports or concerts. Complies with the following electromagnetic compatibility and health safety standards:
National Institute of Justice Standard-0602.02 "handheld metal detectors for the detection of hidden weapons and contraband"
US Department of Commerce, NBS SP 500-101
CE EN 55011, EN 50082-1, I-ETS 300 330
Institute of Electrical and Electronics Engineers IEEE C95.1-1991 section 4.12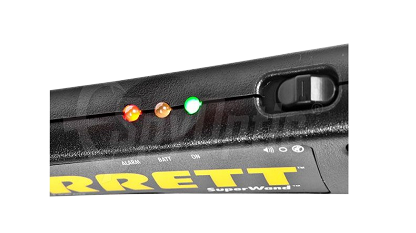 Specification:
Working frequency – 95 kHz
Automatic tuning
Built-in speaker
Sound frequency – 2 kHz
LED indicators
Vibration mechanism
Power supply – 9V alkaline battery – up to 80h, NiMH battery (optional) – up to 20h
Protection classification – IP54
Working temperature range – -37 ° C ~ + 70 ° C
Acceptable humidity – up to 95%
Dimensions – 483 × 83 × 32 mm
Weight – 527 g