SensGuard X1 security alarm receiver

Qty of control zones: 10 zones
Qty of control points: up to 200 alarm sensors
Communication range: up to 150m
Signal encryption: AES-128
SensGuard X1 security alarm receiver for SensMax wireless alarm sensors.
SensGuard X1 alarm receiver is a central device of the SensGurad wireless security system. It receives alarm signals from wireless security sensors and responds to them by a 90dB loud sound signal. The alarm receiver displays the alarm zone as well.
It has 10 control zones and supports up to 20 sensors per zone, in total 200 sensors. Clear audio signals and indication lights of the alarm zone help to respond to an emergency alert promptly.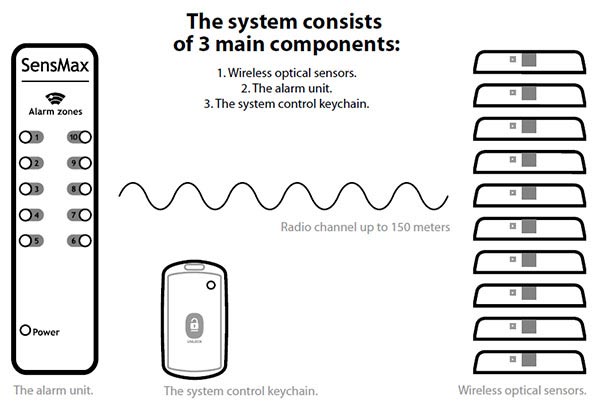 SensGuard X1 alarm receiver has AES-128 encryption of radio channel for secured communication with wireless alarm sensors. The connectivity range is up to 150m, so you can install it in your office or a nearby security guard which can immediately react to the emergency.
SensGuard X1 Alarm Receiver Advantages
Loud and clear alarm – 90dB loud signal, alarm zone indication, connection to a buzzer.
Protected connection – encrypted AES-128 radio channel for communication with wireless security alarm sensors.
Long range communication – communication range is up to 150m.
Easy setup – plug and play device with easy installation.
SensGuard X1 Alarm Receiver Applications
 Showcase window opening alarm for protection of valuable goods as mobile phones or jewelry in retail shops.
 Door or window opening alarm in premises.
 Secure a painting or any other art object from unauthorized movement.

Technical Details:
Application: Retail alarm, retail showcase protection, theft protection in retail store, art object protection, paintings protection, painting movement alarm, mobile phone theft protection, jewelry store protection, window opening alarm, door opening alarm, object movement alarm.
Qty of control zones: 10 zones.
Qty of control points: up to 200 alarm sensors.
Sensors supported: SensMax SensGuard VCNL4010 Wireless alarm sensor.
Communication range: Up to 150m.
Radio signal frequency: 868MHz.
Signal encryption: AES-128.
Power supply: 5V AC adapter.
Dimensions: 114x36x20mm.