STAND DESK stand with a free-standing base is made of high quality ABS plastic which enables WiFi transmission. Protects tablets with dimensions from 9 to 11 "and is designed to be placed on a desk, shop counter, table, etc. Does not require drilling holes in the countertop. Allows to move the stand to any place and use the tablet in a portable way. Simultaneous use of a "kensington lock" type cable attached to the stand housing (optional), protects the tablet against theft.
Different leg versions can be used for stands with a free-standing base:
– with tablet inclination angle – 45 °, 30 °, 60 °,
– FLEXIBLE leg,
– TILT leg.
The tablet enclosure has a very modern and light design. Has rounded shapes, without sharp edges. Allows the safe use of tablets in shops, banks, health centers, restaurants, information points, libraries, schools, at retail fairs etc. It is used for sharing various informations, presenting the company's offers, searching information, presenting advertisements, etc.
The FREESTANDING STAND DESK stand is also available in a version for securing tablets with dimensions from 7 to 9 "and from 11 to 13".
The tablet can be positioned in portrait or landscape orientation.
The front panel comes in different versions:
– exposed camera and exposed home button,
– exposed camera and covered home button,
– covered camera and covered home button,
– covered camera and exposed home button.
Available colors: black, white.
The tablet's enclosure with a key lock.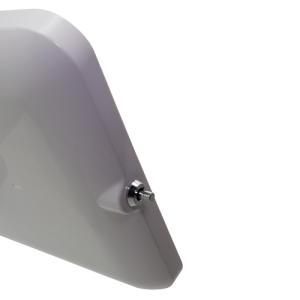 Additional options – the possibility of using depends on the selected leg option:
– 270 ° rotate module – allows to completely rotate the tablet by 270 °, for e.g. turning it to the customer, enabling access to information contained in the device,
– 90 ° rotate module – allows to rotate the tablet by 90 °; enabling for multiple, quick repositioning of the tablet from horizontal to vertical orientation,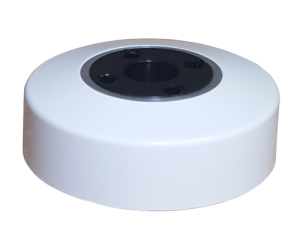 – "kensington lock" security cable – a cable attached to the enclosure to protect tablet against theft,
– angled charging cable – allows for constant charge of the tablet.
The charging cable coming out through the hole in the leg.
The desired options of FREESTANDING STAND DESK should be specified at the order stage.
The offered goods are of the highest quality. Choose solid solutions and security. Take advantage of the product range from AMERSEC, trusted business partner. In our offer you can find everything you need to protect your equipment against theft and damage.