SensMax people counting system WebKit
Operation principle:
Infrared beam people counters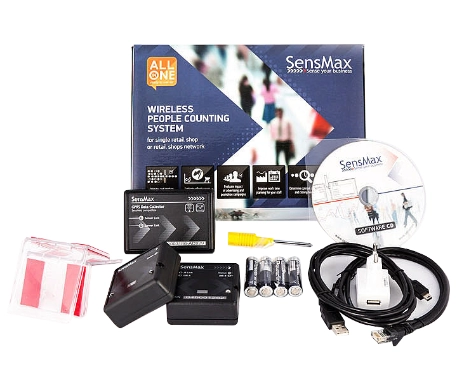 Qty of serviced devices : One sensor kit and one gateway included
Power supply: Batteries and AC adapter included
Additional: Cables, brackets, adhesive tape, installation manual included
Additional feature: All devices in kit paired and pre-configured for connection to SensWeb cloud reporting portal
SensMax WebKit is a set of wireless people counters and data gateway in one box.
SensMax people counting system Webkit is a set of wireless people counters and data collector gateway. The kit contains retail traffic counters, a data gateway, plastic brackets, cables, a power adapter, a set of batteries, a screwdriver, and an installation manual.
SensMax people counting system WebKit contains all supplies for easy installation, so you can use any technical staff to install people counting system in your premises. People counting system WebKit dramatically reduce installation costs and installation time.
What you get is a complete people counting system in one box including the devices and software. This WebKit is compatible with all standard or real-time SensMax people counting sensor models: SensMax S1, SensMax D3 and data gateways as SensMax TCPIP or SensMax Wifi.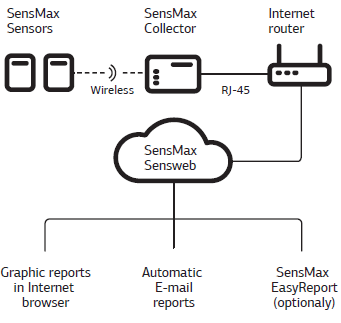 SensMax Webkit Advantages
Online reporting – list of various ready to use reports per hour, day, week, month, year.
Wireless setup – easy installation of people counters without any special mounting or cabling works.
Cloud data storage – SensMax will take care about data storage and backups on daily basis.
Automatic reporting – online system supports multi-users with individual reporting and email settings.
Data export – online reporting portal supports data export for integration into 3rd party reporting tools using API functionality.

Step-by-step activation instructions
Unpack the people counting system WebKit and take out all devices.
Write down on piece of paper the serial number of the people counting system data gateway. You will need it to create an account at an online reporting portal.
Connect the data gateway to a power adapter and connect it to a local router. Make sure that you have Internet access for the data gateway. If everything is done correctly, the red Server Link indicator will light up on the data gateway.
Install batteries into people counter sensors.
Register people counter sensors at the data gateway by pressing the special button on the data gateway and sensor. Sound signal shows that devices paired.
Install wireless people counting sensors at premise's entrance by sticking them to sidewalls at 1.5m height. Use brackets if needed.
Go to online reporting portal SensWeb at my.sensmax.eu and fill a registration form.
Log in to your account and add the data gateway to your profile by entering its serial number. People counter sensors will appear into the reporting system automatically.
Now you can start creating various online people counting reports using statistical data that delivered from people counting sensors.