Handheld metal detector SUPER SCANNER V – the most important feature of this device is its high sensitivity, which allows for manual scanning from an optimal distance, e.g. detection of a gun from 25 cm, a knife – 15 cm, a razor blade – 7.5 cm. If there are elements in the environment that may interfere with the detector's operation, thanks to the sensitivity reduction function, we can eliminate interference emitted by other metal devices and perform a reliable scan. When metal objects are detected, an audible alarm, vibration or red LED lights up. Additionally, when the metal detector is triggered, the LED turns green and turns yellow when the energy is low.

SUPER SCANNER V is a product of the renowned American manufacturer, Garrett, which was created for the needs of a specific event – it was designed for use during the Summer Olympics in Los Angeles. Checking its capabilities during such a demanding mass event confirmed the great quality of this detector and its excellent functionality. Huge popularity and approvals held by the detector confirm the effectiveness of the device.
The SUPER SCANNER V metal detector is automatically calibrated to the appropriate values ​​using a specialized microprocessor. The structure itself was also made in an extremely functional way – a comfortable handle, a large scanning area and a hand strap. Additionally, the material from which the detector was made (ABS) complies with the Mil-Std-810F standard, which guarantees resistance to damage and durability.
The model is popular and widely used among uniformed services, security agencies and private users. Complies with the following electromagnetic compatibility and health safety standards:
National Institute of Justice Standard-0602.02 "handheld metal detectors for the detection of hidden weapons and contraband"
US Department of Commerce, NBS SP 500-101
CE EN 55011, EN 50082-1, I-ETS 300 330
Institute of Electrical and Electronics Engineers IEEE C95.1-1991 section 4.12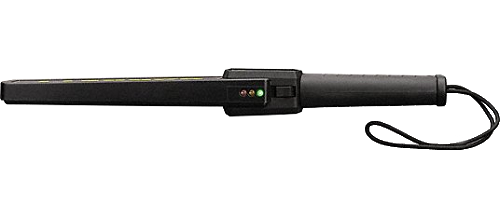 Specification:
Automatic tuning
Built-in speaker
Headphones – optional
Sound frequency – 2 kHz
LED indicators
Vibration mechanism
Power supply – 9V alkaline battery – up to 100h, NiMH battery (optional) – up to 45h
Protection classification – IP54
Working temperature range – -37 ° C ~ + 70 ° C
Acceptable humidity – up to 95%
Dimensions – 420 × 83 × 41.3 mm
Weight – 500 g