Garrett's PD 6500i is an industry leader with superior pinpoint technology and unmatched discrimination features. This detector has proven its effectiveness at moving high volumes of patrons through such events such as the Olympic Games, World Cup 2010 South Africa, and the Pan-American Games in Mexico.
The PD 6500i has also been trusted to safeguard international airports, hotels, government buildings, and correctional facilities. With its advanced networking and ability to pinpoint targets in 33  detection zones, the PD 6500i is the walk-through of choice for security professionals worldwide.
Application:
airports and seaports, railway stations
courts, penitentiary institutions
industrial factories
nuclear and conventional power plants
military facilities
schools and universities
sports facilities and stadiums
other public and private spaces
protection of mass events
anti-theft systems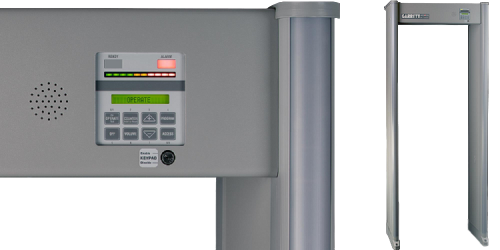 Main features:
Detects only dangerous objects – the sensitive system detects guns, knives and other dangerous objects without alerting the presence of non-dangerous objects.
Precise location – 33 detection zones allow you to accurately track a dangerous object.
Detection of small objects – thanks to the design containing an advanced DSP processor, the gate detects metals from the ground level and objects moving quickly.
Adjustable sensitivity – sensitivity can be adjusted independently for each zone.
Digital Signal Processing – Allows for homogeneous detection sensitivity without interference and eliminates false signals.
Scanning programs – the highest recovery efficiency while maintaining the highest security.
Transparent light signals – symbols signaling the need to stop or the possibility of passing through the gate, placed in a visible way.
Facilitated operation – sound signaling, LED and clear LCD display.
Automatic device control – it has the function of auto-calibration and automatic adjustment of operating parameters.
Integrated panel – easy access to electronics, cables and control parts that are integrated with the device.
Durable construction – solid and durable.
Password protection – prevents tampering with the device by unauthorized persons.
Easy to assemble.
Guarantee.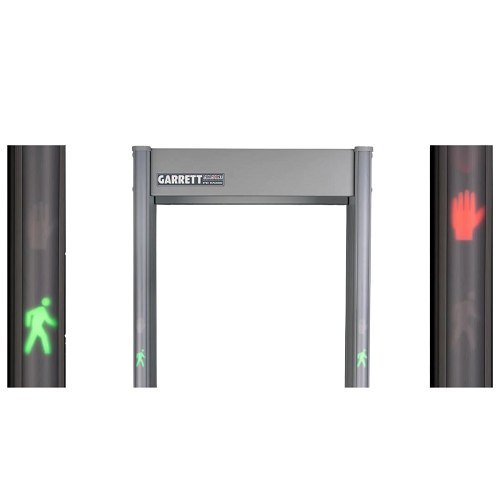 Specification:
Power supply: automatic: 100-240V, 50 / 60Hz, 5W, battery: optional
Dimensions: internal: 0.58 × 0.76 × 2.0 m, external: 0.58 × 0.9 × 2.2 m
Transport dimensions: 0.17 × 0.9 × 2.3 m
Weight: 64 kg
Working temperature range: -20 ° C to 70 ° C
Acceptable humidity: up to 95%