Outdoor pedestrian counting system for parks, recreational facilities, and trails help you to detect the number of people visiting the public location, as well as tracking visiting trends. Outdoor pedestrian counting system helps to schedule staff work and maintenance activities and gives you information for grant proposals and investment calculations.
Main features:
Outdoor design. Wireless pedestrian counters with a robust waterproof and anti-vandal case.

Extended memory. Outdoor people counters have built-in memory for pedestrian traffic statistics storing for up to 250 days.

Directional count. Unidirectional and bidirectional people counting algorithms for your needs.

Easy and wireless installation. Wireless outdoor sensors powered by batteries and no need for any cabling forks to install them.

Long battery life. One-direction pedestrian counting sensors work using standard AA batteries for up to 2 years and two-direction sensors for up to 1 year.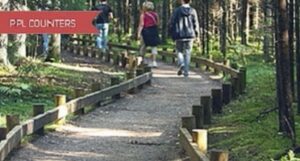 The outdoor pedestrian counting system helps track visiting trends and record the number of pedestrians in parks, recreational facilities, and hiking trails. Visiting statistics from pedestrian counters is used for adjusting staff work schedules according to occupancy trends and accurate reporting for fundraising purposes. A pedestrian counting system helps to evaluate promotional activities' effectiveness and choose the best way to advertise your services and generate more pedestrian traffic at your location.
SensMax pedestrian traffic counters designed for outdoor use have a robust anti-vandal casing with water and dust protection according to IP68 standards. Pedestrian traffic counters intended for foot traffic counting in no-electricity and no-internet environments. Outdoor people traffic counters have extended memory that is enough for foot traffic statistics storing for up to 250 days. Pedestrian traffic statistics from counters are collected manually by a mobile data reading device. It allows you to use outdoor people counters in non-electricity areas. You can install pedestrian sensors on trees, bridges, walking gates, etc.

For this solution you can use several device combinations
Automated people counting system devices
SensMax TAC-B realtime bidirectional sensor https://amersec.pl/en/katalog/sensmax-tac-b-3d-w-5/
Reporting software features
Pedestrian traffic statistics from the data collector are exported to any PC or laptop via a USB connection. Pedestrian statistics are displayed in SensMax EasyReport software in 20+ ready-to-use reports per hour, day, month, quarter, and year. Reporting software allows you to check visiting trends, compare periods before and after marketing activities, detect the most popular areas, as well as get detailed per-hour statistics about each trail you need to control.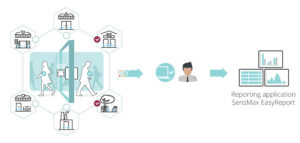 Pedestrian counting system consists of outdoor pedestrian counters for people traffic counting, the data collector for data reading, and reporting software with various ready-to-use pedestrian traffic reports. Wireless footfall traffic counters are powered by standard AA batteries and work for up to 2 years for one-direction movement detection and 6-12 month if two-direction pedestrian sensors are counting sensors used.
Pedestrian traffic statistics stored into the internal memory of outdoor people counter that is enough for storing data backup for up to 150-250 days, depending on the sensor model. Manual data collector supports data reading from up to 99 pedestrian counters and has built-in memory for 2000 days of hourly data shared among sensors. This device has an integrated Li-Ion accumulator that is enough for 30 days of work without a charge.